Ten Thousand Skies Above You

by Claudia Gray
Narrator: Tavia Gilbert
Series: Firebird, Book 2
Also in this series: A Thousand Pieces of You
Published by Harper Audio on 03 November 2015
Genres: Abduction, Action & Adventure, Emotions & Feelings, Espionage, Friendship, Love & Romance, Mystery & Detective, Parallel World, People & Places, Road Trip, Romance, Social Issues, Suspense, War & Military, Young Adult
Length: 10 hrs and 51 mins
Format: Audiobook
Source: Audible.com
Buy on Amazon|Buy on Audible|Buy on Barnes & Noble|Buy on Book Depository
Goodreads

Also by this author:
A Thousand Pieces of You
Place(s) Traveled To:
Rome, Italy (Medieval-verse)
San Francisco, California (Triad-Verse // War-Verse)
Berkeley, California (Our Universe // War-Verse)
Paris, France (Russia-Verse)
New York, New York (Mob Verse)
Unnamed (Home Office Verse)
First Line(s): The first time I traveled to another dimension, I intended to take a life. Now I'm trying to save one.
Second books in a trilogy can be a mixed bag. Sometimes they are really really good and sometimes you wonder why the series wasn't a duology instead. THE THOUSAND SKIES ABOVE YOU by Claudia Gray falls somewhere in the middle of these two reactions. On one hand, there is a lot of new information and a series of events that keep you on the edge of your seat. On the other it felt a little drawn out and there was no real explaination for why things started as they did. While A THOUSAND PIECES OF YOU (my review) can be considered a stand alone, TEN THOUSAND SKIES ABOVE YOU is not. It ends in a crazy cliff hanger and while I want to know what happens I'm also on the fence about it.
Which is a shame because A THOUSAND PIECES OF YOU was such a surprise that had me eagerly anticipating this book. Perhaps I was looking forward to it too much and so I fell victim to my own hype. It didn't help that TEN THOUSAND SKIES ABOVE YOU was very repetitive and it even seemed to contradict itself at times. One moment they are saying that their alters don't remember what happens when they are "possessed" (for lack of a better term) and then they next they do retain memories of the experience. You can't have it both ways, either they remember or they don't. Pick one and run with it.
It also didn't help that Marguerite was way more annoying in this book than she was in the first one. She seemed to regress a lot and I was glad for Theo as he saved many a scene. But then at the same time I was conflicted because of the events that happened in the first book and with some that happened in this one. Things came close to becoming love triangly and that just didn't sit well with me. Fortunately though, Marguerite stays true to Paul throughout though it makes me sad that we didn't get to see much of this character in Triad-verse self. But I do like how Marguerite learns to accept all the possibilities of Paul and to me that is a very big and important step.
Tavia Gilbert returns to narrate the story and as with A THOUSAND PIECES OF YOU I was very pleased with the narration. She is great with all the various accents and her voice really helps make the story compelling. I'm glad that I continued this one via audio because I may have tossed the book across the room a time or two if it wasn't on my phone. I do have plans to read the final book, A MILLION WORLDS WITH YOU (Goodreads) but as of now its not one that I plan on rushing out to read, even with the crazy cliffhanger. I want to know what happens buy I'm not crazy bouncy with excitement for it as I was with TEN THOUSAND SKIES ABOVE YOU. Altough I do know I'll be buying a finished copy of book 3 as these covers are absolutely stunning!!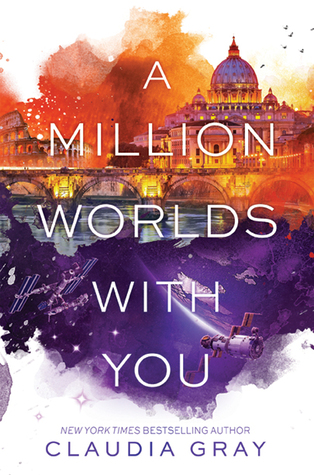 Add Hourglass by Myra McEntire to Goodreads.