Title: Shadow Magic (Shadow Magic #1)

Author: Joshua Khan

Release Date: 6th October 2016

Genre: MG Fantasy

Publisher: Scholastic

Format: Paperback

Thorn, an outlaw's son, wasn't supposed to be a slave. He's been sold to Tyburn, an executioner, and they're headed to Castle Gloom in Gehenna, the land of undead, where Thorn will probably be fed to a vampire.

Lilith Shadow wasn't supposed to be ruler of Gehenna. But following the murder of her family, young Lily became the last surviving member of House Shadow, a long line of dark sorcerers. Her country is surrounded by enemies and the only way she can save it is by embracing her heritage and practicing the magic of the undead. But how can she when, as a girl, magic is forbidden to her?

Just when it looks like Lily will have to leave her home forever, Thorn arrives at Castle Gloom. A sudden death brings them together, inspires them to break the rules, and leads them to soar to new heights in this fantasy with all the sparkle and luster of a starry night sky.
I'm very pleased to welcome Joshua Khan, author of SHADOW MAGIC, to Ticket to Anywhere as part of the UK blog for this fun and imaginative middle grade novel. SHADOW MAGIC is filled with friendship, mystery, zombies, magic and giant bats. Its an adventure story and sure to engage the mind of anyone who reads it. SHADOW MAGIC is currently available in the US, UK and Australia and if you haven't picked it up yet then what are you waiting for? As Rick Riordan has blurred "I defy you not to love this story."
Most Inspiring Things/Places
My bank statement is probably what inspires me most of all. Second comes the crack in the walls in the house. Third is the holes in my shoes…
I jest, sort of. Writing's my job. It's my career. It's what earns me money and I'm very proud of that. Very. Getting paid to do something you love is damn awesome.
I'm not looking for inspiration, and definitely not waiting for it to strike. If I'm not typing, I'm sitting with my notepad open. Sometimes it's just scribbling, sometimes its notes in teh margin on previous pages, sometimes it's maps or pages and pages of download, random ideas that, when shifted through, make yield up a nugget of sometime shiny.
My inspirations the world going by. I love taking buses. Up on the top floor you've a great view, of people and places and the sky and I love that. Looking down onto people's heads and wondering about what they'[re wondering about, trying see into their heads. Cafes, travelling, seeing sights, all these things inspire me, if not immediately, sometimes later. They're a compost of ideas. What will grow out of it, who knows?
I start and abandon projects all the time. If I hit 20,000 words on an idea, then I'll finish it, that's my test on its sturdiness. I no longer plot in detail, certainly not on the 1st draft. I have a sense of the journey, the destination, but not on the actual road. I know where I want to end up, but happy to work on the route as it comes.
I think there is an irony to writing. It's a lonely profession, but one that needs the writer to engage with the outside world more than any other job. It's our concerns, our dreams and our frustrations with the world at large that feed our work. SHADOW MAGIC is all about the education and opportunities for girls, despite the zombies and giant bats my concerns are how my daughters, now in secondary school, will get on in the outside world, what with gender pay gaps and glass ceilings and stereotypes on careers suitable for women (one daughter's very interested in the RAF, for instance, the other's taken up martial arts). So, my biggest inspiration is my children. Always has been, always will be.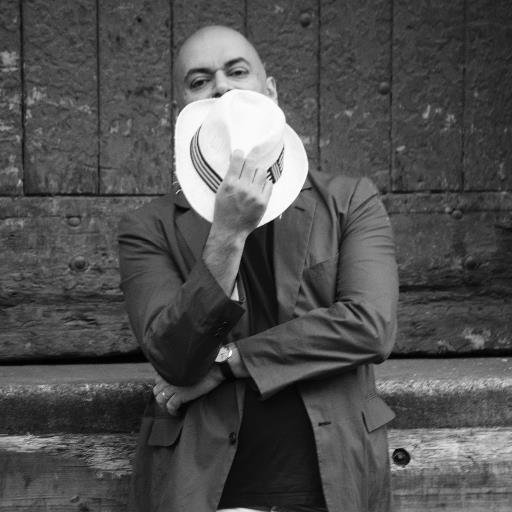 Joshua Khan was born in Britain. From very early on he filled himself with the stories of heroes, kings and queens until there was hardly any room for anything else. He can tell you where King Arthur was born* but not what he himself had for breakfast. So, with a head stuffed with tales of legendary knights, wizards and great and terrible monsters it was inevitable Joshua would want to create some of his own. Hence SHADOW MAGIC. Josh lives in London with his family, but he'd rather live in a castle. It wouldn't have to be very big, just as long as it had battlements.
*Tintagel, in case you were wondering.
Website: http://www.joshuakhan.com/
Twitter: https://twitter.com/writerjoshkhan
Wednesday 5th October
Thursday 6th October
Friday 7th October
Saturday 8th October
Sunday 9th October
Monday 10th October
Tuesday 11th October
Wednesday 12th October
Thursday 13th October
Friday 14th October
Saturday 15th October
Sunday 16th October
Monday 17th October
Tuesday 18th October