Hey there all you crazy kids…long time no blog!
The last several weeks have been super crazy busy in my personal life and as a result my poor little corner of the interwebs has suffered. Now that things have calmed down a little I thought it a good time to stop in, dust off the cobwebs and ease back into blogging with a good old fashioned Top Ten Tuesday! This weeks topic is about the books on Fall TBR Lists, of which I have a TON that I want to read. Because like blogging, my available time to read also suffered. For that, I might try to spend that first hour or two when I get home from work reading to try and make a dent in my GR Goal backlog. I'm 11 books behind at the moment and while I'll probably not make up that deficient by the end of the year I'd at least like to try and get it down into the single digits. Anywho, providing my IRL free time is back for the duration here are the books that I'd like to cross off my Fall TBR List! (Links go to Goodreads except where indicated.)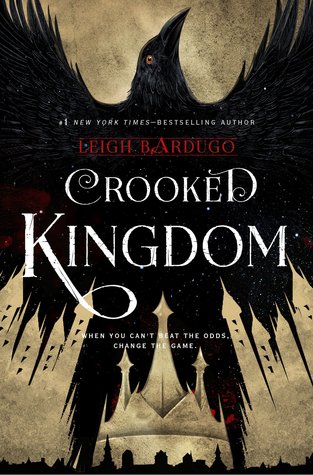 1.  Crooked Kingdom by Leigh Bardugo
I was so wary about reading SIX OF CROWS (my review) because I wasn't a fan of SHADOW & BONE (my review) but I am I am glad that I tried it because I really liked it. Now I'm all super eager to read the conclusion that I've not only pre-ordered a hardcover copy but the audio as well! So you can be sure I'll be starting this one first thing tomorrow!
Kaz Brekker and his crew have just pulled off a heist so daring even they didn't think they'd survive. But instead of divvying up a fat reward, they're right back to fighting for their lives. Double-crossed and left crippled by the kidnapping of a valuable team member, the crew is low on resources, allies, and hope. As powerful forces from around the world descend on Ketterdam to root out the secrets of the dangerous drug known as jurda parem, old rivals and new enemies emerge to challenge Kaz's cunning and test the team's fragile loyalties. A war will be waged on the city's dark and twisting streets―a battle for revenge and redemption that will decide the fate of magic in the Grisha world.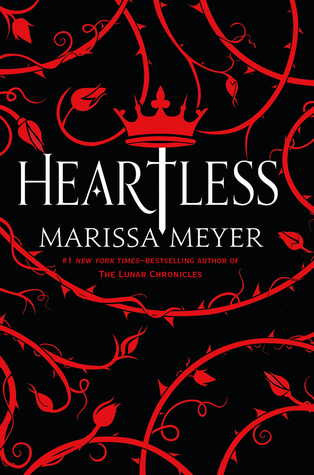 While I didn't love Meyer's Lunar Chronicles as much as some I did like them enough to read them through until the end. I'm curious to see how she takes on the retelling of Alice in Wonderland which is a story that I've enjoyed since childhood.
Long before she was the terror of Wonderland — the infamous Queen of Hearts — she was just a girl who wanted to fall in love.

Catherine may be one of the most desired girls in Wonderland, and a favorite of the yet-unmarried King of Hearts, but her interests lie elsewhere. A talented baker, all she wants is to open a shop with her best friend and supply the Kingdom of Hearts with delectable pastries and confections. But according to her mother, such a goal is unthinkable for the young woman who could be the next Queen.

At a royal ball where Cath is expected to receive the king's marriage proposal, she meets Jest, the handsome and mysterious court joker. For the first time, she feels the pull of true attraction. At the risk of offending the King and infuriating her parents, she and Jest enter into an intense, secret courtship.

Cath is determined to define her own destiny and fall in love on her terms. But in a land thriving with magic, madness, and monsters, fate has other plans.
3. Letters to the Lost by Brigid Kemmerer
Yes, I know that this doesn't come out until April 2017 and I should probably wait to read it until Winter or Spring but I has is now and I want to reads it now. Just look at the description! It sounds totally up my alley and I'm gonna be so super sad if it doesn't live up to my expectations.
Juliet Young always writes letters to her mother, a world-traveling photojournalist. Even after her mother's death, she leaves letters at her grave. It's the only way Juliet can cope.

Declan Murphy isn't the sort of guy you want to cross. In the midst of his court-ordered community service at the local cemetery, he's trying to escape the demons of his past.

When Declan reads a haunting letter left beside a grave, he can't resist writing back. Soon, he's opening up to a perfect stranger, and their connection is immediate. But neither Declan nor Juliet knows that they're not actually strangers. When life at school interferes with their secret life of letters, sparks will fly as Juliet and Declan discover truths that might tear them apart.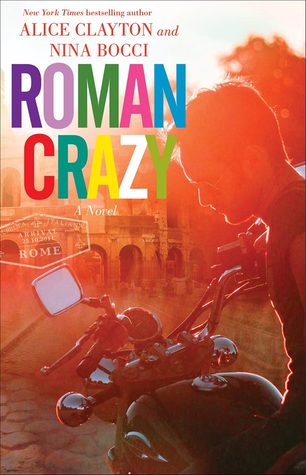 4. Roman Crazy by Alice Clayton and Nina Bocci
This one just sounds delicious and I've heard nothing but good things about it from trusted peeps on the twitter. Plus its set in Italy and that just adds a little more magic into the title.
Avery Bardot steps off the plane in Rome, looking for a fresh start. She's left behind a soon-to-be ex-husband in Boston and plans to spend the summer with her best friend Daisy, licking her wounds—and perhaps a gelato or two. But when her American-expat friend throws her a welcome party on her first night, Avery's thrown for a loop when she sees a man she never thought she'd see again: Italian architect Marcello Bianchi.

Marcello was the man—the one who got away. And now her past is colliding with her present, a present where she should be mourning the loss of her marriage and—hey, that fettuccine is delicious! And so is Marcello…

Slipping easily into the good life of summertime in Rome, Avery spends her days exploring a city that makes art historians swoon, and her nights swooning over her unexpected what was old is new again romance. It's heady, it's fevered, it's wanton, and it's crazy. But could this really be her new life? Or is it just a temporary reprieve before returning to the land of twin-set cardigans and crustless sandwiches?

A celebration of great friendship, passionate romance, and wonderful food, Roman Crazy is a lighthearted story of second chances and living life to the fullest.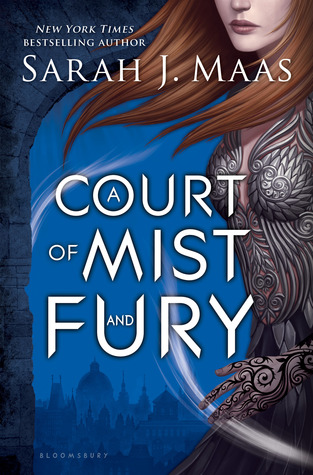 5. A Court of Mist and Fury by Sarah J Maas
This makes my Fall TBR List because Andi and I made one of our drunken book deals. What? You've never done that? If not, you should hang out with Andi and I more as they do pop up more often than not though its been a while since our last deal was made. This time around she has the better end of the bargain, she has to read Harry Potter and the Order of the Phoenix and I have to read A Court of Mist and Fury, with the caveat that I can't complain to her if I don't like it. So you know who was the more sober one when this deal was made. lol
Feyre survived Amarantha's clutches to return to the Spring Court—but at a steep cost. Though she now has the powers of the High Fae, her heart remains human, and it can't forget the terrible deeds she performed to save Tamlin's people.

Nor has Feyre forgotten her bargain with Rhysand, High Lord of the feared Night Court. As Feyre navigates its dark web of politics, passion, and dazzling power, a greater evil looms—and she might be key to stopping it. But only if she can harness her harrowing gifts, heal her fractured soul, and decide how she wishes to shape her future—and the future of a world cleaved in two.
6.  Say it Louder by Heidi Joy Tretheway
SAY IT LOUDER is the 4th book in a musician series that I started a while back. I'd begun to think that Tretheway would never publish this book but now its here and I am eager to see how the story concludes. While the synopsis does say that this can be read as a stand-alone the threads of it begin in the very first book and are woven throughout so in this humble bloggers opinion you'd want to read them all, starting with TATTOO THIEF (my review.)
Dave faces an ultimatum—dump his toxic girlfriend Kristina or break up his band Tattoo Thief. But Kristina won't go quietly. She has enough dirt to ruin each member of the band, and enough on Dave to send him to jail.
This stinking, bloody threat has haunted him for years.
As Dave hangs in limbo, a new star emerges: Willa, dubbed "The Parking Lot Picasso" by the modern art world. When a magazine feature catapults her to sudden fame, Dave helps her cope with the spotlight when all she's ever known is the shadows.
Life as a runaway jaded Willa, and it leaves her deeply in doubt of her fifteen minutes of fame. Nothing good lasts forever. Especially not love.
It seems like everyone wants a piece of Willa now. When their music and art worlds collide, Dave's the one person who isn't trying to take something from Willa, and who might have something to give.
As Dave's secret is laid bare, a mystery unravels, pointing to his guilt and its dangerous intersection with Willa's old life on the streets. Both must risk their success and the intense connection to each other to prevent their pasts from defining their future.

SAY IT LOUDER is a stand-alone steamy romance—each book in this companion series is a love story about a different member of the band Tattoo Thief.
7. Dance with Me by Heidi Cullinan
Since discovering Cullinan's Love Lessons series I've been wanting to check out some of her backlog so adding this one to the list. These characters have cameos in her Love Lessons books and it involves dance…so I have hopes that I'll like this one.
Ed Maurer has bounced back, more or less, from the neck injury that permanently benched his semipro football career. He hates his soul-killing office job, but he loves volunteering at a local community center. The only fly in his ointment is the dance instructor, Laurie Parker, who can't seem to stay out of his way.

Laurie was once one of the most celebrated ballet dancers in the world, but now he volunteers at Halcyon Center to avoid his society mother's machinations. It would be a perfect escape, except for the oaf of a football player cutting him glares from across the room.

When Laurie has a ballroom dancing emergency and Ed stands in as his partner, their perceptions of each other turn upside down. Dancing leads to friendship, being friends leads to becoming lovers, but most important of all, their partnership shows them how to heal the pain of their pasts. Because with every turn across the floor, Ed and Laurie realize the only escape from their personal demons is to keep dancing—together.
8. All in Pieces by Suzanne Young
Pretty sure that ALL IN PIECES is going to rip my heart out, it *IS* a Suzanne Young book after all but I can't resist the lure of it. Young just writes exceptional stories and I'm eager to see what this one is all about!
From New York Times bestselling author Suzanne Young comes a heartrending new novel about a girl struggling to deal with anger issues while taking care of her younger brother with special needs.

"Anger-management issues."

That's how they classified Savannah Sutton after she stuck a pencil in her ex-boyfriend's hand because he mocked her little brother, Evan, for being disabled. That's why they sent her to Brooks Academy—an alternative high school that's used as a temporary detention center.

The days at Brooks are miserable, but at home, life is far more bleak. Savvy's struggling to take care of her brother since her mom left years ago, and her alcoholic dad can't be bothered. Life with Evan is a constant challenge, but he's also the most important person in the world to Savvy.

Then there's Cameron, a new student at Brooks with issues of his own; a guy from a perfect family that Savvy thought only existed on TV. Cameron seems determined to break through every one of the walls Savvy's built around herself, except if she lets herself trust him, it could make everything she's worked so hard for fall apart in an instant.

And with her aunt seeking custody of her brother and her ex-boyfriend seeking revenge, Savvy's fighting to hold all the pieces together. But she's not sure how much tighter she can be pulled before she breaks completely.
9. Into the Blue by Chanel Cleeton
I never was into the whole military genre of romance but then a friend was telling me all about FLY WITH ME by Chanel Cleeton and I think I've been converted. INTO THE BLUE is the second book of this fighter pilot series and I'm eager to see what happens with these characters! Plus, this one is a second chance romance story and you *know* how much I adore those!!
Eric Jansen—call sign Thor—loves nothing more than pushing his F-16 to the limit. Returning home to South Carolina after a tragic loss, he hopes to fix the mistake he made long ago, when he chose the Air Force over his fiancée.

Becca Madison isn't quick to welcome Thor back. She can't forget how he shattered her heart. But Thor won't give up once he's set his sights on what he wants—and he wants Becca.

Thor shows Becca that he's no longer the impulsive boy he used to be, and Becca finds herself irresistibly drawn to him. But will Thor be able to walk away from his dream of flying the F-16 for their love or does his heart belong to the sky?
10. Love & Gelato by Jenna Evans Welch
I started this one before life got all crazy busy so I'm looking forward to getting back to this story to see how it all ends. Plus, it too is set in Italy so I hope that it feeds my travel bug just enough until I'm able to do some travel for real.
"I made the wrong choice."

Lina is spending the summer in Tuscany, but she isn't in the mood for Italy's famous sunshine and fairy-tale landscape. She's only there because it was her mother's dying wish that she get to know her father. But what kind of father isn't around for sixteen years? All Lina wants to do is get back home.

But then she is given a journal that her mom had kept when she lived in Italy. Suddenly Lina's uncovering a magical world of secret romances, art, and hidden bakeries. A world that inspires Lina, along with the ever-so-charming Ren, to follow in her mother's footsteps and unearth a secret that has been kept for far too long. It's a secret that will change everything she knew about her mother, her father—and even herself.

People come to Italy for love and gelato, someone tells her, but sometimes they discover much more.
Related Posts