Top Ten Tuesday is a meme hosted by The Broke and the Bookish this weeks topic is a freebie! I was wondering what I should do for today's post and thought about skipping it altogether to tackle one of my 20 out backlog reviews. But then Andi over at AndiABCs this this fun Book Connections post (click here!!) and I thought how cool is that? Her post, is about books that immediately bring to mind a blogger type person. If you've been a member of this book blogging world for any length of time then there are just certain books that when you see the cover or hear the title you think of a particular person. So here is my book connections list and don't forget to head over to Andi's blog and see what book connections she made. (links go to Goodreads except where indicated)
1. Andi from AndiABCs – What Happens Next by Colleen Clayton
I know what you are thinking "wait…what?" are you sure you want to choose THIS book for Andi? And the answer is yes! I know that the very first book that like 99.9% of people associate with Andi is Anna and the French Kiss (because seriously, her crush on that book is bigger than the universe) but I thought that was such an obviously pick. Andi is a big advocate for many books and this one came to mind second because its another one that she holds near and dear to her heart. I never would have read this book without Andi forcing me too and I'm super glad that she did.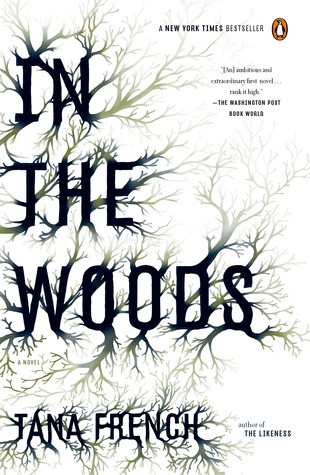 2. Sarah from Sarah Reads to Much – Into the Woods by Tana French
If there is one book that makes me think of Sarah its Into the Woods by Tana French…and pretty much just Tana French. She and French are totally linked in my mind that I really can't think of one without thinking of the other. Its a book that been on my list for eons, mostly because of her, and one that I really need to get to because she just loves it so much.
.
3. Sarah from Goodreads – Lead by Kylie Scott.
Ok Sarah say it with me now….JIMMY!! Sarah and I bonded over beers and rock star romances one night in NYC via mutual friend Andi. I recommended the Stage Dive series to her and both of us were very hesitant to pick up Jimmy's story because we disliked him so much in the previous books. But then we both took a gamble and fell super head over heals in love! This is a book (or rather male lead) that we'll use as a heart achy gauge when recommending other books. So Lead is a book that I'll forever associate with Sarah. (*sighs* Jimmy *sighs)
4. Danielle from Love at First Page – Jellico Road by Melina Marchetta
Danilelle has a few book boyfriend loves but the one that I associate with her most is Jonah Griggs from Melina Marchetta's Jellicoe Road. So much so that when I was her secret sister I spent six months pretending to be Jonah on the packages and letters that I sent. She is Mrs Jonah Griggs and when I think of this book I most often think of Danielle.
5. Sarah from Treat Yourself with Books – Sugar Daddy by Lisa Kleypas
For this Sarah (I really know a whole heck of a lot of Sarah's!!) the book/author that comes to mind for me first is Lisa Kleypas. Sugar Daddy is the first one that I thought of but any of Kleypas's historicals also remind me of Sarah and vice versa.
6. Jaime of Fiction Fare – The Book of Ivy by Amy Engel
If you know Jaime then you know that there are several books that could probably be THE book to associate with her. But the one that came to mind for me first was The Book of Ivy. If it wasn't for her talking about this one (a lot) on social media then I probably would never have read it.
7. Isalys from Goodreads – Halfway to the Grave by Jeanine Frost
If you want to bring the Cuban out of Isa then just ask her to talk about romance books. That girl gets so excited it isn't even funny. One series that I always link with her is the Night Huntress series by Jeanine Frost. I love Isa's passion for books and love to hear her crazy gushing rants when it comes to characters that she loves. If you ever run into at an event just ask her to recommend a romance and you'll see what I mean.
8. Dani from Overflowing Shelf – The Demon's Lexicon by Sarah Rees Brennan
I'll never forget the day that I was in a car with Dani and another friend of ours Jen and The Demon's Lexicon book was brought up. I don't think I've seen two heads whip around so fast as theirs when I said that I hadn't read it yet. Over the next hours, days, weeks, etc these two set up a campaign of gush and bullying until I caved and picked up the series. Something that I'll always be super forever grateful for because Holy Goodness Batman!!! And as such the thought of Dani and Demon's Lexicon will forever and always be linked in my brain.
9. Alea formerly of Pop Culture Junkie – Going Too Far by Jennifer Echols
The book that always makes me think of Alea is Going Too Far by Jennifer Echols. I don't think I would have picked up Echols if it wasn't for Alea. Her passion and excitement for the book came across loud and clear despite the miles that separate us.
10. Tiff from Mostly YA Books – Diana Peterfreund
Ok…so Diana Peterfreund isn't technically a book but Tiff and I totally bonded of Diana when we first met and its really hard to pick just one book that screams Tiff. To me, when I think of Peterfreund's books I think first of a favorite character (*sigh* Poe) and then usually Tiff. So closely is she link in my mind with Peterfreund's books. And if you haven't read the super gloriousness that is Peterfreuend's Secret Society Girl then do yourself a favor and get on it. So so good.
Related Posts