Top Ten Tuesday is a meme hosted by The Broke and the Bookish this weeks topic is all about of favorite reads so far this year. So far I haven't had and 5 star reads in 2016 but I have read some really good 4 star reads and those are listed here in no particular order. Links go to goodreads unless otherwise indicated.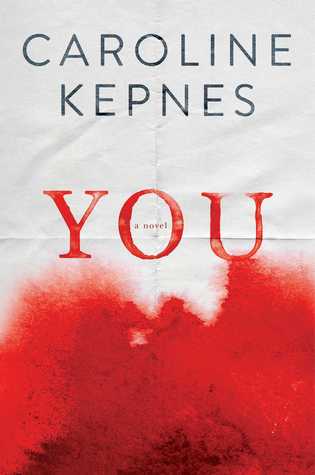 1. You by Caoline Kepnes – so creepy good! Who knew the POV of a stalker could be so compelling! Definitely listen to this one on audiobook if you are able. (Review coming soon)
When a beautiful, aspiring writer strides into the East Village bookstore where Joe Goldberg works, he does what anyone would do: he Googles the name on her credit card.

There is only one Guinevere Beck in New York City. She has a public Facebook account and Tweets incessantly, telling Joe everything he needs to know: she is simply Beck to her friends, she went to Brown University, she lives on Bank Street, and she'll be at a bar in Brooklyn tonight—the perfect place for a "chance" meeting.

As Joe invisibly and obsessively takes control of Beck's life, he orchestrates a series of events to ensure Beck finds herself in his waiting arms. Moving from stalker to boyfriend, Joe transforms himself into Beck's perfect man, all while quietly removing the obstacles that stand in their way—even if it means murder.
2. Lonely Hearts by Heidi Callinan – This whole series is a must read but I think out of all of them this one is my favorite. There is more angst and I'm usually pretty anti-angst but I just loved these characters so much! Hated for it to end. (Review coming soon.)
With the quiet help of his wealthy family, Sebastian "Baz" Acker has successfully kept his painful past at bay. But as the end of college draws near, his friends—his buffer zone—are preparing to move on, while his own life is at a crippling standstill.With loneliness bearing down on him, Baz hooks up—then opens up—with Elijah Prince, the guy Baz took a bullet for last year. The aftershocks of their one-night stand leave giant cracks in Baz's carefully constructed armor. For the first time, the prospect isn't terrifying.

Accustomed to escaping his demons by withdrawing into his imagination, Elijah isn't used to having a happy herd of friends. He's even less comfortable as the object of a notorious playboy's affections. Yet all signs seem to indicate this time happiness might be within his grasp. When Baz's mother runs for a highly sought-after public office, the media hounds drag Baz's and Elijah's pasts into the light. In the blinding glare, Baz and Elijah face the ultimate test: discovering if they're stronger together…or apart.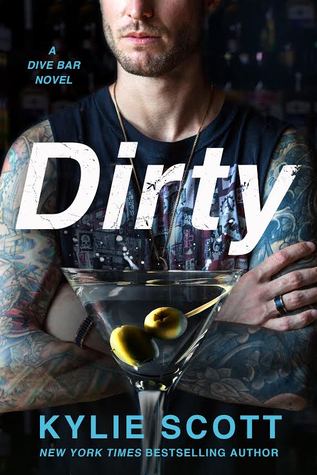 3. Dirty by Kylie Scott – One of my favorite meet cutes in recent reads and also such great banter between the hero and heroine! (Review coming soon)
The last thing Vaughan Hewson expects to find when he returns to his childhood home is a broken hearted bride in his shower, let alone the drama and chaos that comes with her.

Lydia Green doesn't know whether to burn down the church or sit and cry in a corner. Discovering the love of your life is having an affair on your wedding day is bad enough. Finding out it's with his best man is another thing all together. She narrowly escapes tying the knot and meets Vaughan only hours later.

Vaughan is the exact opposite of the picture perfect, respected businessman she thought she'd marry. This former musician-turned-bartender is rough around the edges and unsettled. But she already tried Mr. Right and discovered he's all wrong-maybe it's time to give Mr. Right Now a chance.

After all, what's wrong with getting dirty?
4. Tied to Trouble by Megan Erickson – You'll never look at bow ties the same way again after reading this book (Click here for my review.)
Between love and hate, there's a whole lot of trouble…

Chad Lake only showed up at his sister's party for the free food, but when he spots an uptight nerd at the edge of the crowd, he can't resist trying to ruffle the guy's perfect bow tie and impeccable hair. The hottie's ready for him, though, and in the end, it's Chad who's left wide-eyed, his ears still ringing with the filthy things Bow Tie whispered in his ear. No one gets the upper hand on Chad. Ever.

Owen Hawkins has heard all about the cocky Adonis from Chad's sister—the same sister who holds Owen's career advancement in her hands. He has every intention of steering clear of the other man…until Chad's sexy taunts push him too far. There's something intriguing about Chad, and even though Owen knows that getting tangled up with the infuriating man is trouble, he can't seem to stay away…

**This is part of an M/F series but can be read as standalone**
5. Strong Signal by Megan Erickson and Santino Hassell – all the feels I felt with this one…gamers and miltary men…ohh la la! (Review coming soon)
I was counting down the months until the end of my deployment. My days were spent working on military vehicles, and I spent my nights playing video games that would distract me until I could leave Staff Sergeant Garrett Reid behind.

That was when I met him: Kai Bannon, a fellow gamer with a famous stream channel.

I never expected to become fixated on someone who'd initially been a rival. And I'd never expected someone who oozed charm to notice me—a guy known for his brutal honesty and scowl. I hadn't planned for our online friendship to turn into something that kept me up at night—hours of chatting evolving into filthy webcam sessions.

But it did. And now I can't stop thinking about him. In my mind, our real life meeting is perfect. We kiss, we fall into bed, and it's love at first sight.

Except, like most things in my life, it doesn't go as planned.

Strong Signal is a standalone, full-length novel with no cliffhanger
6. Full Disclosure by Kindle Alexander – So many heart-achy feels in this one!! Could have done without the crazy mystery but loved the chemistry between the two leads! (Click here for my review.)
Deputy United States Marshal Mitch Knox apprehends fugitives for a living. His calm, cool, collected attitude and devastatingly handsome good looks earn him a well-deserved bad boy reputation, both in the field and out. While away on an assignment, he blows off some steam at a notorious Dallas nightclub. Solving the case that has plagued him for months takes a sudden backseat to finding out all there is to know about the gorgeous, shy blond sitting alone at the bar.

Texas State Trooper Cody Turner is moving up the ranks, well on his way to his dream of being a Texas Ranger. While on a two-week mandatory vacation, he plans to relax and help out on his family's farm. Mitch is the last distraction Cody needs, but the tatted up temptation that walks into the bar and steals his baseball cap is too hard to ignore.

As Mitch's case gains nationwide attention, how will he convince the sexy state trooper that giving him a chance won't jeopardize his life's plan…especially when the evil he's tracking brings the hate directly to his doorstep, threatening more than just their careers.
7. Alexander Hamilton by Ron Chernow – Who knew a biography could be so emotional? Well, I blame the musical for that but overall this one was pretty riveting and a must read for any history fan. (No review planned)
A  New York Times  Bestseller, and  the inspiration for the hit Broadway musical  Hamilton!

Pulitzer Prize-winning author Ron Chernow presents a landmark biography of Alexander Hamilton, the Founding Father who galvanized, inspired, scandalized, and shaped the newborn nation.

In the first full-length biography of Alexander Hamilton in decades, Ron Chernow tells the riveting story of a man who overcame all odds to shape, inspire, and scandalize the newborn America. According to historian Joseph Ellis, Alexander Hamiltonis "a robust full-length portrait, in my view the best ever written, of the most brilliant, charismatic and dangerous founder of them all."

Few figures in American history have been more hotly debated or more grossly misunderstood than Alexander Hamilton. Chernow's biography gives Hamilton his due and sets the record straight, deftly illustrating that the political and economic greatness of today's America is the result of Hamilton's countless sacrifices to champion ideas that were often wildly disputed during his time. "To repudiate his legacy," Chernow writes, "is, in many ways, to repudiate the modern world." Chernow here recounts Hamilton's turbulent life: an illegitimate, largely self-taught orphan from the Caribbean, he came out of nowhere to take America by storm, rising to become George Washington's aide-de-camp in the Continental Army, coauthoring The Federalist Papers, founding the Bank of New York, leading the Federalist Party, and becoming the first Treasury Secretary of the United States.Historians have long told the story of America's birth as the triumph of Jefferson's democratic ideals over the aristocratic intentions of Hamilton. Chernow presents an entirely different man, whose legendary ambitions were motivated not merely by self-interest but by passionate patriotism and a stubborn will to build the foundations of American prosperity and power. His is a Hamilton far more human than we've encountered before—from his shame about his birth to his fiery aspirations, from his intimate relationships with childhood friends to his titanic feuds with Jefferson, Madison, Adams, Monroe, and Burr, and from his highly public affair with Maria Reynolds to his loving marriage to his loyal wife Eliza. And never before has there been a more vivid account of Hamilton's famous and mysterious death in a duel with Aaron Burr in July of 1804.

Chernow's biography is not just a portrait of Hamilton, but the story of America's birth seen through its most central figure. At a critical time to look back to our roots, Alexander Hamilton will remind readers of the purpose of our institutions and our heritage as Americans.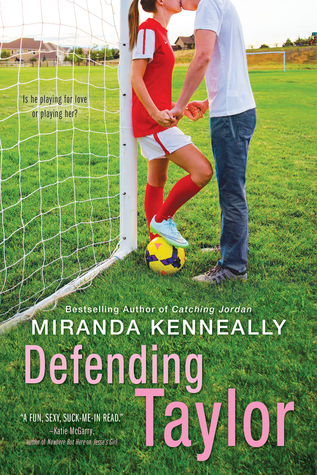 8. Defending Taylor by Miranda Kenneally – Sometimes hard choices have to be made and you have to live with the consequences. Loved this story so very muchly. (Review coming soon.)
Captain of the soccer team, president of the Debate Club, contender for valedictorian: Taylor's always pushed herself to be perfect. After all, that's what is expected of a senator's daughter. But one impulsive decision—one lie to cover for her boyfriend—and Taylor's kicked out of private school. Everything she's worked so hard for is gone, and now she's starting over at Hundred Oaks High.

Soccer has always been Taylor's escape from the pressures of school and family, but it's hard to fit in and play on a team that used to be her rival. The only person who seems to understand all that she's going through is her older brother's best friend, Ezra. Taylor's had a crush on him for as long as she can remember. But it's hard to trust after having been betrayed. Will Taylor repeat her past mistakes or can she score a fresh start?
9. In Real Life by Jessica Love – Seriously…this one is one of my favorite reads of the year so far….think Anna and the French Kiss but in Las Vegas and without the boarding school. (Click here for my review.)
Hannah Cho and Nick Cooper have been best friends since 8th grade. They talk for hours on the phone, regularly shower each other with presents, and know everything there is to know about one another.

There's just one problem: Hannah and Nick have never actually met.

Hannah has spent her entire life doing what she's supposed to, but when her senior-year spring-break plans are ruined by a rule breaker, she decides to break a rule or two herself. She impulsively decides to road trip to Vegas, her older sister and BFF in tow, to surprise Nick and finally declare her more-than-friendship feelings for him.

Hannah's romantic gesture backfires when she gets to Vegas and finds out that Nick has been keeping some major secrets. Hannah knows the real Nick can't be that different from the online Nick she knows and loves, but now she only has one night in Sin City to figure out what her feelings for Nick really are, all while discovering how life can change when you break the rules every now and then.
10. 26 Kisses by Anna Michels – Another really cute YA Contemprary that was hard to put down. (Click here for my review)
Breaking up with her boyfriend is not how Veda planned on starting her summer. When Mark makes it clear that it's over between them, Veda is heartbroken and humiliated—but, more importantly, she's inspired. And so she sets out on the love quest of a lifetime: use the summer to forget about Mark, move on, and move up. All she has to do is kiss twenty-six boys with twenty-six different names—one for each letter of the alphabet.

From the top of the Ferris wheel at her hometown carnival to the sandy dunes of Lake Michigan, Veda takes every opportunity she can to add kisses (and boys) to her list, and soon the breakup doesn't sting quite as much. But just when Veda thinks she has the whole kissing thing figured out, she meets someone who turns her world upside down.

By turns hilarious and heartbreaking, Anna Michels's debut is the story of one girl who realizes that moving on from the supposed love of your life means taking a chance—and having the courage to love again.
Related Posts