Top Ten Tuesday is a meme hosted by The Broke and the Bookish this weeks topic is about the last ten books I've added to my TBR pile. As I recently went to ALA and got a few packages in the mail I'm going to highlight ten of those books that I'm excited for. To all my recent books check out my Instagram or Goodreads. So in no particular order here are ten recent TBR additions that I am looking forward to reading. TBR links will take you to goodreads any other book mentioned will take you to my review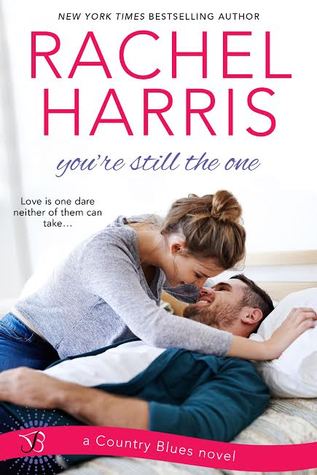 1. You're Still the One by Rachel Harris – I fell in love with Charlie in Harris's Accidentally Married on Purpose (my review) and am so excited to have his story….and to also get some cameos from Sherry and Tyler! This one sounds really cute and I can't wait to dive into it. Don't be shocked to see me reading this one in the very near future.
Love is one dare neither of them can take…

Arabella Stone, Nashville's darling, is eager to shuck her prim-and-proper rep, and a few wild months spent checking items off her " summer bucket list" is the way to do it. First up: kiss the man she's crushed on since she wore a training bra, the bad boy of country himself, Blue bassist Charlie Tucker.

For Charlie, a beautiful woman flirting with him isn't out of the norm—but a beautiful woman bolting after the hottest kiss of his life sure is. And when he finds out his kiss-and-run Cinderella is none other than Arabella Stone, daughter of his label's CEO, he knows he's in trouble. Because not only is she a Stone, she's also his employee for the next few months at the recording studio he just bought.

Over the course of one thrilling summer, Arabella and Charlie chip away at her bucket list and fight the simmering attraction between them…knowing that once it's all over, so is their time together.
2. A Week of Mondays by Jessica Brody – Little known fact….Groundhog Day is one of my favorite movies so a book that takes a similar premise? Oh yeah…I'm in.
When I made the wish, I just wanted a do-over. Another chance to make things right. I never, in a million years, thought it might actually come true…

Sixteen-year-old Ellison Sparks is having a serious case of the Mondays. She gets a ticket for running a red light, she manages to take the world's worst school picture, she bombs softball try-outs and her class election speech (note to self: never trust a cheerleader when she swears there are no nuts in her bake-sale banana bread), and to top it all off, Tristan, her gorgeous rocker boyfriend suddenly dumps her. For no good reason!

As far as Mondays go, it doesn't get much worse than this. And Ellie is positive that if she could just do it all over again, she would get it right. So when she wakes up the next morning to find she's reliving the exact same day, she knows what she has to do: stop her boyfriend from breaking up with her. But it seems no matter how many do-overs she gets or how hard Ellie tries to repair her relationship, Tristan always seems bent set on ending it. Will Ellie ever figure out how to fix this broken day? Or will she be stuck in this nightmare of a Monday forever?

From the author 52 Reasons to Hate My Father and The Unremembered trilogy comes a hilarious and heartwarming story about second (and third and fourth and fifth) chances. Because sometimes it takes a whole week of Mondays to figure out what you really want.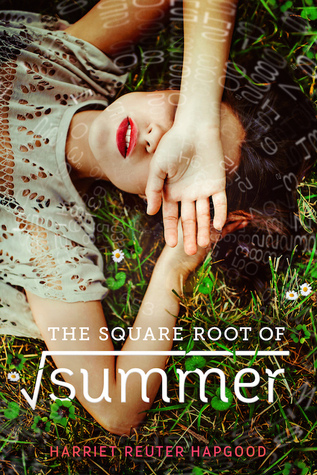 3. The Square Root of Summer by Harrier Reuter Hapgood – time travel, science and romance….this one seems like its made for me.
This is what it means to love someone. This is what it means to grieve someone. It's a little bit like a black hole. It's a little bit like infinity.

Gottie H. Oppenheimer is losing time. Literally. When the fabric of the universe around her seaside town begins to fray, she's hurtled through wormholes to her past:

To last summer, when her grandfather Grey died. To the afternoon she fell in love with Jason, who wouldn't even hold her hand at the funeral. To the day her best friend Thomas moved away and left her behind with a scar on her hand and a black hole in her memory.

Although Grey is still gone, Jason and Thomas are back, and Gottie's past, present, and future are about to collide—and someone's heart is about to be broken.

With time travel, quantum physics, and sweeping romance, The Square Root of Summer is an exponentially enthralling story about love, loss, and trying to figure it all out, from stunning debut YA voice, Harriet Reuter Hapgood.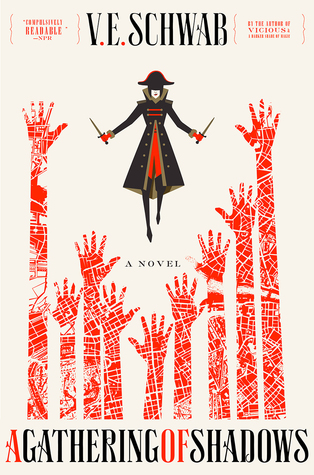 4. A Gathering of Shadows by V.E. Schwab – While I didn't love A Darker Shade of Magic (my review) as much as some (I fell into the overy-hyped book trap) I am really curious to see where Schwab takes this story.
Four months have passed since the shadow stone fell into Kell's possession. Four months since his path crossed with Delilah Bard. Four months since Rhy was wounded and the Dane twins fell, and the stone was cast with Holland's dying body through the rift, and into Black London.

In many ways, things have almost returned to normal, though Rhy is more sober, and Kell is now plagued by his guilt. Restless, and having given up smuggling, Kell is visited by dreams of ominous magical events, waking only to think of Lila, who disappeared from the docks like she always meant to do. As Red London finalizes preparations for the Element Games—an extravagant international competition of magic, meant to entertain and keep healthy the ties between neighboring countries—a certain pirate ship draws closer, carrying old friends back into port.

But while Red London is caught up in the pageantry and thrills of the Games, another London is coming back to life, and those who were thought to be forever gone have returned. After all, a shadow that was gone in the night reappears in the morning, and so it seems Black London has risen again—meaning that another London must fall.
5. Whatever. by S.J. Goslee – I really enjoy all the coming out stories that are getting published these days and this sounds like a fun one. I'm looking forward to reading Mike's voice.
It's like the apocalypse came, only instead of nuclear bombs and zombies, Mike gets school participation, gay thoughts, and mother-effin' cheerleaders.

Junior year is about to start. Here's what Mike Tate knows:

His friends are awesome and their crappy garage band is a great excuse to drink cheap beer. Rook Wallace is the devil. The Lemonheads rock. And his girlfriend Lisa is the coolest. Then Lisa breaks up with him, which makes Mike only a little sad, because they'll stay friends and he never knew what to do with her boobs anyway. But when Mike finds out why Lisa dumped him, it blows his mind. And worse—he gets elected to homecoming court.

With a standout voice, a hilariously honest view on sex and sexuality, and enough f-bombs to make your mom blush, this debut YA novel is a fresh, modern take on the coming-out story.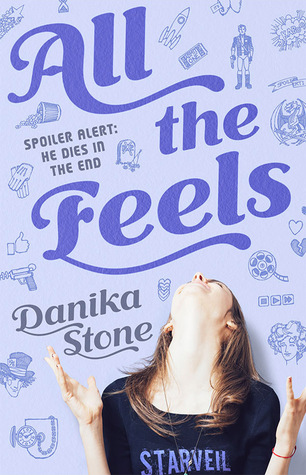 6. All the Feels by Danika Stone – Who hasn't been sad when a favorite character dies in a series? So this one looks like a fun journey into pop culture and fandom and I can not wait.
College freshman Liv is more than just a fangirl: The Starveil movies are her life… So, when her favorite character, Captain Matt Spartan, is killed off at the end of the last movie, Liv Just. Can't. Deal.

Tired of sitting in her room sobbing, Liv decides to launch an online campaign to bring her beloved hero back to life. With the help of her best friend, Xander, actor and steampunk cosplayer extraordinaire, she creates #SpartanSurvived, a campaign to ignite the fandom. But as her online life succeeds beyond her wildest dreams, Liv is forced to balance that with the pressures of school, her mother's disapproval, and her (mostly nonexistent and entirely traumatic) romantic life. A trip to DragonCon with Xander might be exactly what she needs to figure out what she really wants.
7. My Kind of Crazy by Robin Reul – This one sounds like its going to be filled with some quirky fun with a twist. The synopsis made me smile so of course I had to bring this one home with me from ALA.
Despite the best of intentions, seventeen-year old, wisecracking Hank Kirby can't quite seem to catch a break. It's not that he means to screw things up all the time, it just happens. A lot. Case in point: his attempt to ask out the girl he likes literally goes up in flames when he spells "Prom" in sparklers on her lawn…and nearly burns down her house.

As if that wasn't bad enough, Peyton Breedlove, a brooding loner and budding pyromaniac, witnesses the whole thing. Much to Hank's dismay, Peyton takes an interest in him—and his "work." The two are thrust into an unusual friendship, but their boundaries are tested when Hank learns that Peyton is hiding some dark secrets, secrets that may change everything he thought he knew about Peyton.
8. Shadow Magic by Joshua Khan – I don't read a lot of middle grade books (seriously check out my Year End Reading post & see how many I read last year) so you know a book has to sound extra special for me to pick it up. This was one of just a few books that I *needed* to bring home with me from ALA and it was one of the first books I grabbed.
Thorn, an outlaw's son, wasn't supposed to be a slave. He's been sold to Tyburn, an executioner, and they're headed to Castle Gloom in Gehenna, the land of undead, where Thorn will probably be fed to a vampire.

Lilith Shadow wasn't supposed to be ruler of Gehenna. But following the murder of her family, young Lily became the last surviving member of House Shadow, a long line of dark sorcerers. Her country is surrounded by enemies and the only way she can save it is by embracing her heritage and practicing the magic of the undead. But how can she when, as a girl, magic is forbidden to her?

Just when it looks like Lily will have to leave her home forever, Thorn arrives at Castle Gloom. A sudden death brings them together, inspires them to break the rules, and leads them to soar to new heights in this fantasy with all the sparkle and luster of a starry night sky.
9. The Long Game by Jennifer Lynn Barnes – I fell hard for Barnes's The Fixer (my review) last year and while it didn't end on a cliff hanger it did end in such a way that I wanted the sequel right that very moment. Very excited for this one and hope that it lives up to all my hopes and expectations!
Tess Kendrick, teen fixer extraordinaire, returns in a pulse-pounding thriller about a deadly conspiracy at the heart of Washington.

For Tess Kendrick, a junior at the elite Hardwicke School in Washington D.C., fixing runs in the family. But Tess has another legacy, too, one that involves power and the making of political dynasties. When Tess is asked to run a classmate's campaign for student council, she agrees. But when the candidates are children of politicians, even a high school election can involve life-shattering secrets.

Meanwhile, Tess's guardian has also taken on an impossible case, as a terrorist attack calls into doubt who can–and cannot–be trusted on Capitol Hill. Tess knows better than most that power is currency in D.C., but she's about to discover first-hand that power always comes with a price.

Perfect for fans of Harlan Coben and Ally Carter, the second book in this thrilling series will leave readers breathless.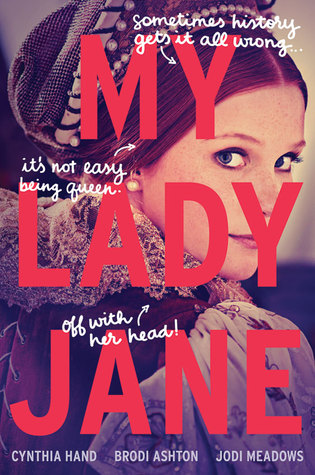 10. My Lady Jane by Jodi Meadows, Cynthina Hand and Brodi Ashton – This was another must have for me at ALA and I was denied and thawarted for it at every opportunity! And just when I gave up hope the super lovely Ginger at GReads gave me her copy…there may have been a happy tear or two in my eye as I hugged the ARC to me. So yes….the excitement is high for this one.
For fans of The Princess Bride comes the comical, fantastical, romantical, (not) entirely true story of Lady Jane Grey.

Lady Jane Grey, sixteen, is about to be married to a total stranger—and caught up in an insidious plot to rob her cousin, King Edward, of his throne. But that's the least of Jane's problems. She's about to become Queen of England. Like that could go wrong.
Related Posts